In all price categories except 2.5-3 million and 4 to 5 million, prices and month's supply is showing improvement. The range up to 1 million is very popular with a greater number of Buyers than Sellers.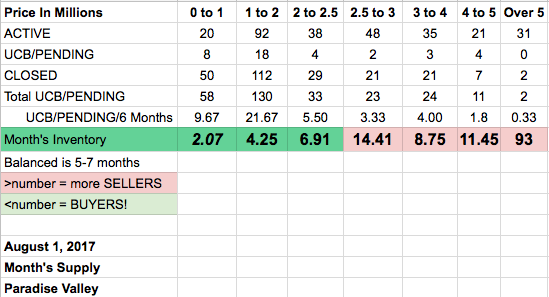 Even the price range of 1-2.5 million is steady with more Buyers than Sellers. The price range of 3-4 million showed improvement in the past two weeks although still borders on more Sellers than Buyers. 2.5-3 million remained flat with still over a year's supply of inventory. 4-5 million was also flat with little change in the past two weeks, and still nearly a year's supply of inventory. Over 5 million had a dramatic increase in supply with nearly a 7.75 years supply of homes.
Looking back to the beginning of 2017, all ranges are showing improvement with the exception of the over 5 million dollar homes, which has an excess supply of Sellers making it more important than ever to price these homes to the market supply.
This chart was calculated on Paradise Valley, single family homes, and shows absorption of homes based on the last 6 months.